Hot spring water flowing directly from our own source
Tsuruya's hot spring
Tsuruya's hot spring baths are 100% fresh hot spring water flowing directly from our own source.
Without using a pump, the inn uses hot spring water naturally flowing from the source at 52 degrees Celsius in its large hot spring baths, outdoor baths, and private baths, without heating up or cooling by adding water.
Zao Onsen's water is acidic and contains sulfur, aluminum, sulfate, chloride, and iron. The acidity of the water source is pH 1.5 and is known to be the second most acidic in all of Japan.
The water is known to relieve small cuts, burns, chronic skin illnesses, women's illnesses, hypertension, and so on. As nature's gift, the onsen's water is exceptional in quality.
Once the water from the source is exposed to air, it smells of sulfur and creates white mineral deposits, or "Yu no Hana". This exotic onsen atmosphere can be seen in almost every hot spring on Zao onsen street, and is sure to leave a memorable impression in your travels. We are confident that you will feel content with the difference made onto your skin after soaking in our baths.
Effects of bathing / Illnesses and symptons relieved by the hot spring water

Cuts, burns, chronic skin disease, weakly children, chronic women's illness, diabetes, high blood pressure, arteriosclerosis, neurosis, muscular pain, arthralgia, stiff and painful shoulders from old age, motor paralysis, stiff joints, bruises, sprains, chronic digestive problems, hemorrhoid, sensitivity to cold, recovery from illness, recovery from fatigue, health enhancement

Contraindications of bathing / people with the following diseases and symptons ought to refrain from bathing

Those with skin and mucosal hypersensitivity (especially with photosensitivity), elderly people with dry skin, acute illness (especially fever), active tuberculosis, malignancy, heavy heart illnesses, respiratory failure, renal failture, hemorrhagic diseases, advanced anemia, other diseases generally with pathogenesis, pregnancy (especially early and late)
Four private baths "Yuraku-dori"
Tsuruya's four specialty private baths, "Yuraku-dori". Guests can relax in 4 differently-themed private hot spring baths as much as they want.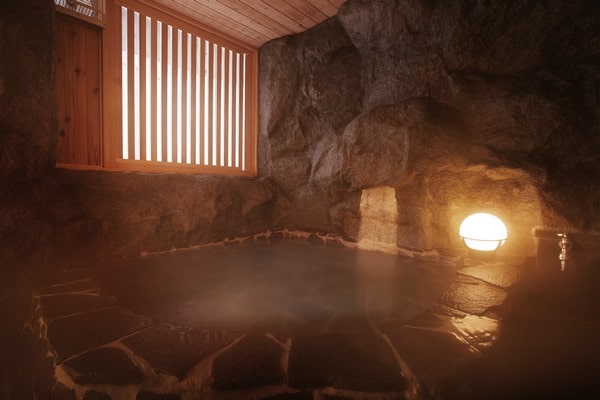 Cave bath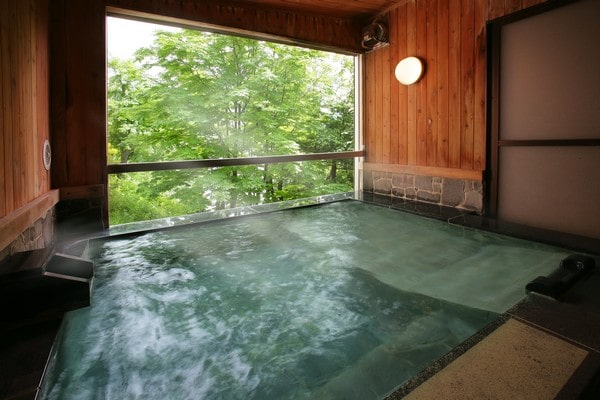 Hokuto shallow bath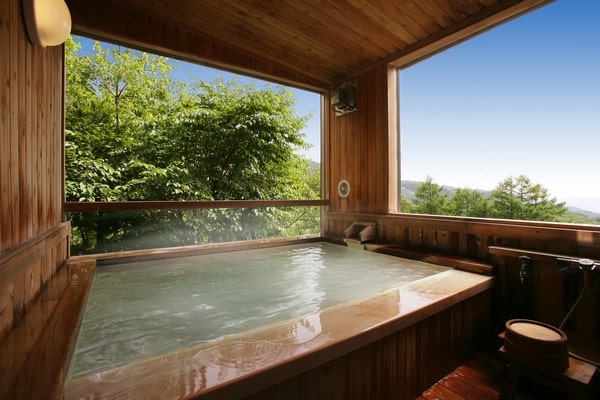 Wood aroma bath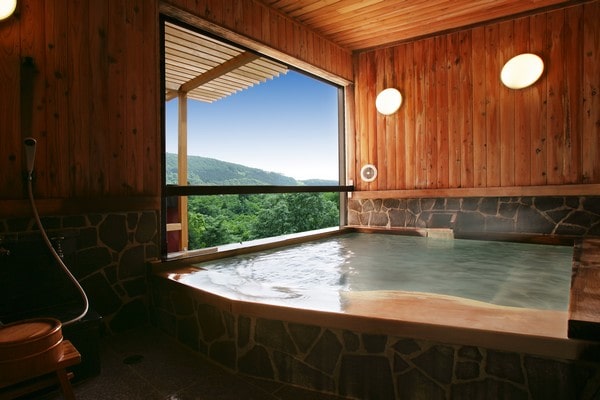 Megumi bath
The hot spring baths at our inn are open 24 hours (please note that some baths may close around 10 am for cleaning). The large main bath and the outdoor bath offer much in seasonal scenery, which you can enjoy while relaxing in the hot, soothing water.
Gokan no Yu Tsuruya
Located right in front of Zao bus terminal, Gokan no Yu Tsuruya is a hot spring inn with 100% natural hot spring water drawn from its own source.
Tsuruya's hot spring source requires no automated pump system, as the water naturally gushes out plentifully, making it environmentally friendly. We offer this natural gift to our guests in two of our large main baths and four of our private baths.
We invite you to enjoy local Yamagata-style cuisine that uses fresh seasonal ingredients, as well as the splendid natural scenery of Zao that can be seen from the guest rooms.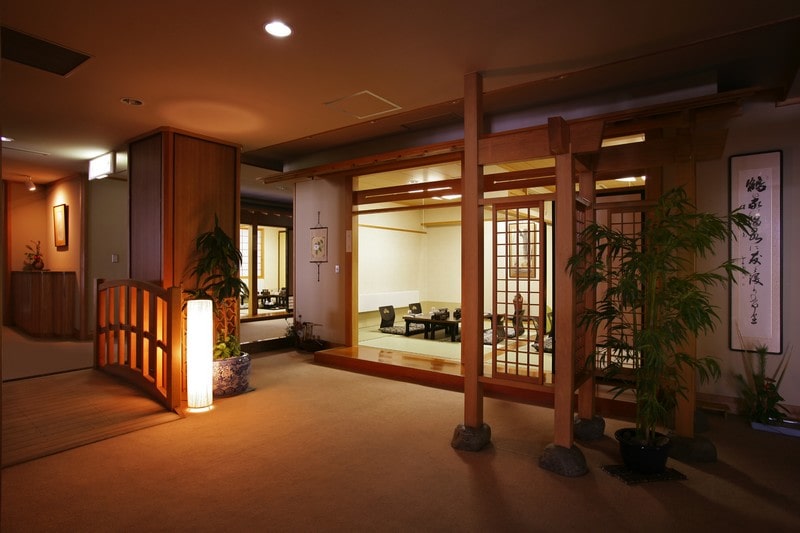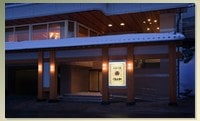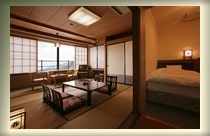 Check in / 15:00?19:00 Check out / 10:00
Cancellation policies
| | | | |
| --- | --- | --- | --- |
| 当日 | 100% | 前日 | 50% |
| 2~3日前 | 30% | 4日前以前 | なし |
*During New Year's only (from December 30 to January 1), in case you cancel, there is a cancellation fee from 2 weeks (14 days) before your reservation date.

Rooms with Japanese atmosphere
Guests can choose from Japanese guest rooms that feature relaxing and authentic Japanese atmosphere with tatami floor mats, and European style guest rooms.
Guest rooms located on our fourth and fifth floor are especially popular among our guests, as they feature a view of the magnificent Mt. Iide and Mt. Asahi.
Come and enjoy Zao onsen's scenery, including spring greenery, autumn foliage, first snow, and more.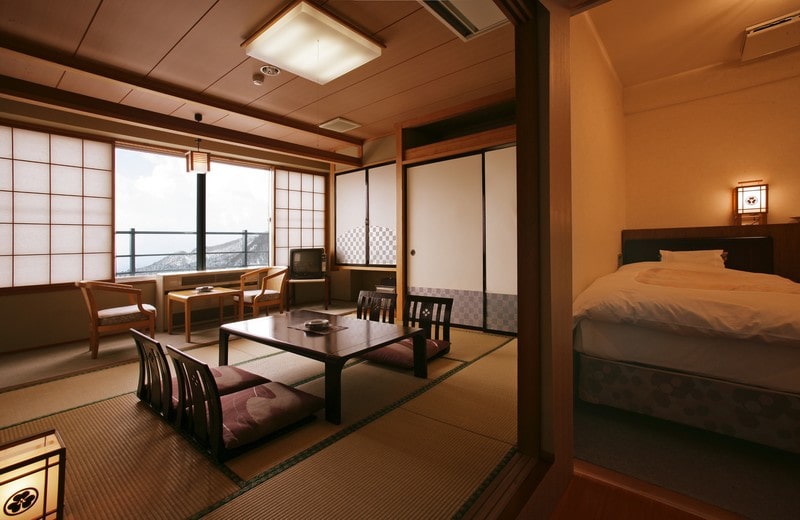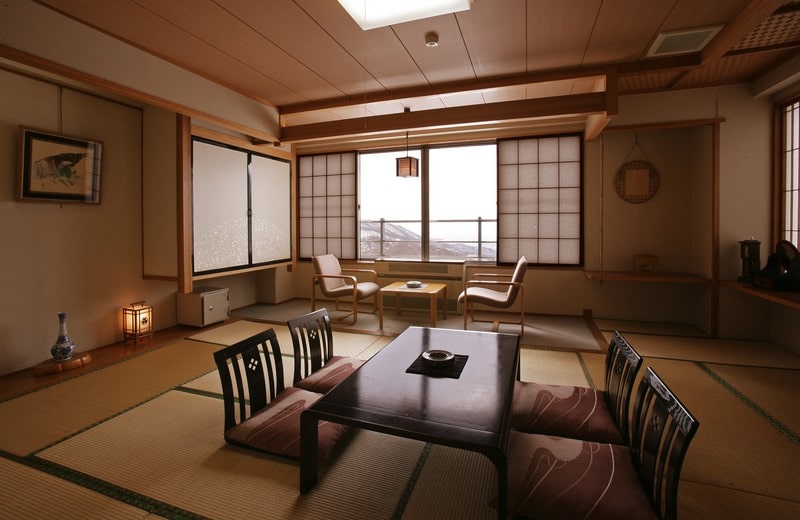 Japanese-European style room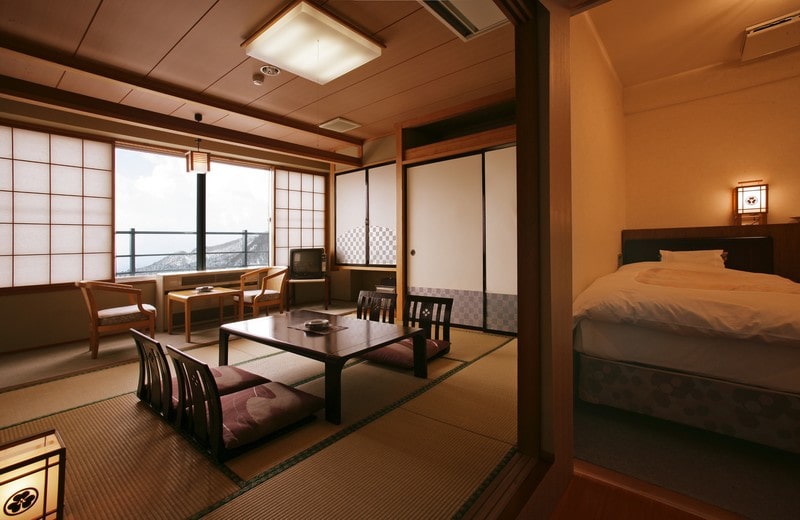 Japanese style guest room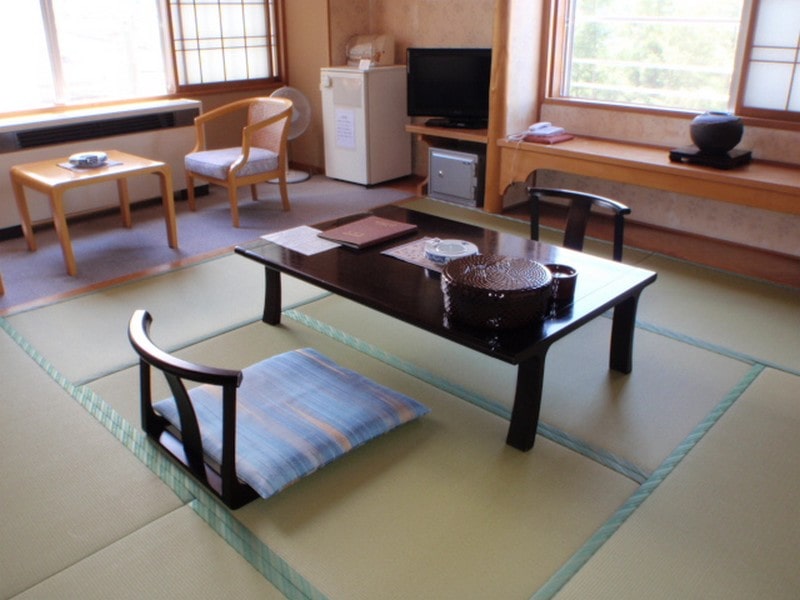 Japanese style guest room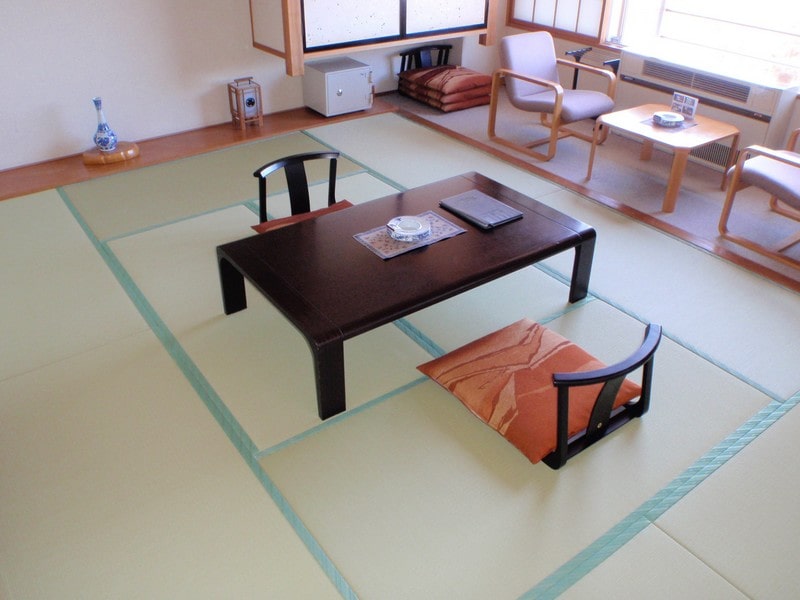 Japanese style guest room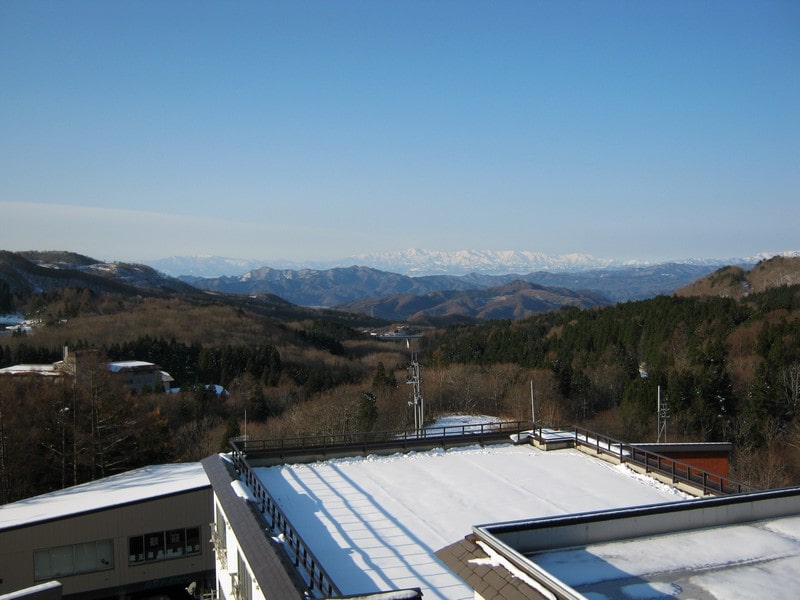 Guest room. View from the guest room. Morning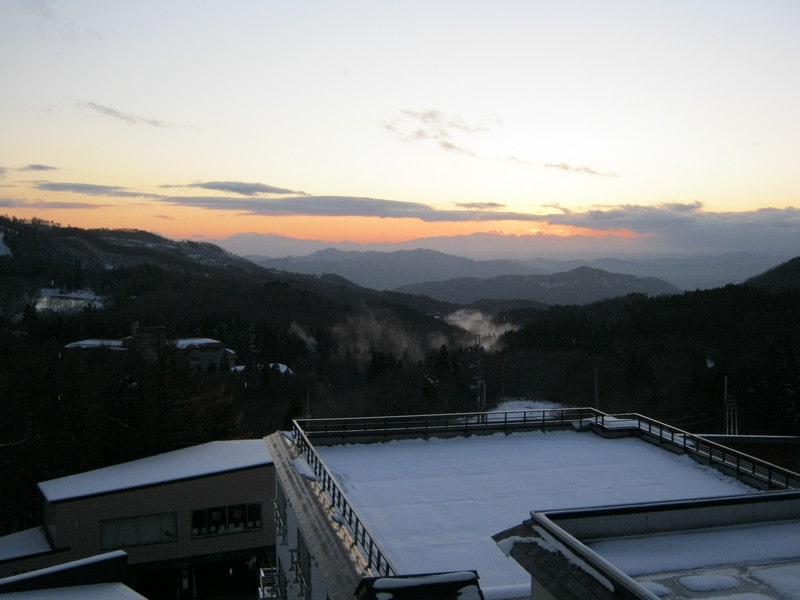 Guest room. View from the guest room. Setting sun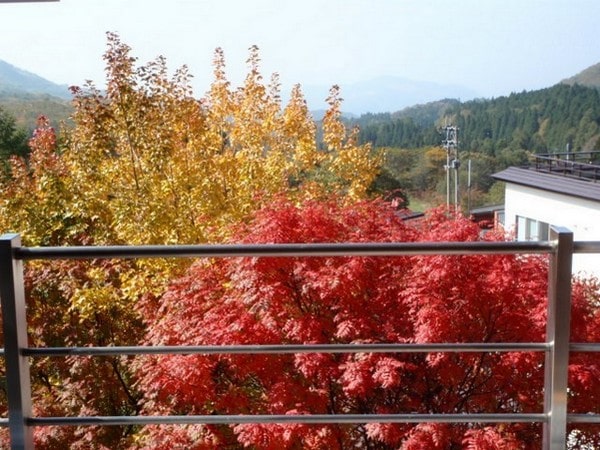 Guest room. View from the guest room. Autumn foliage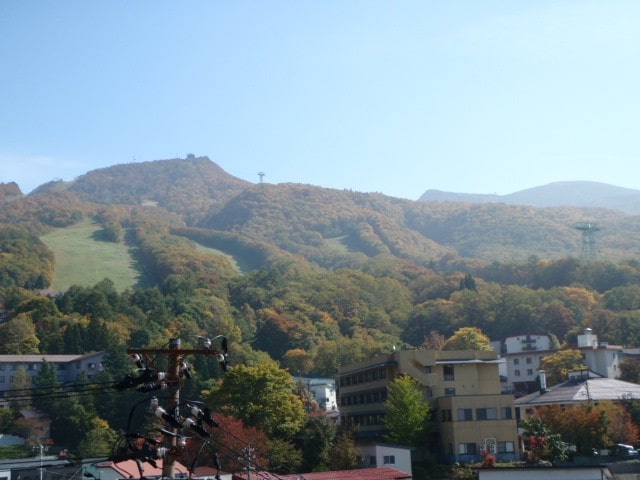 Guest room. View from the guest room. Autumn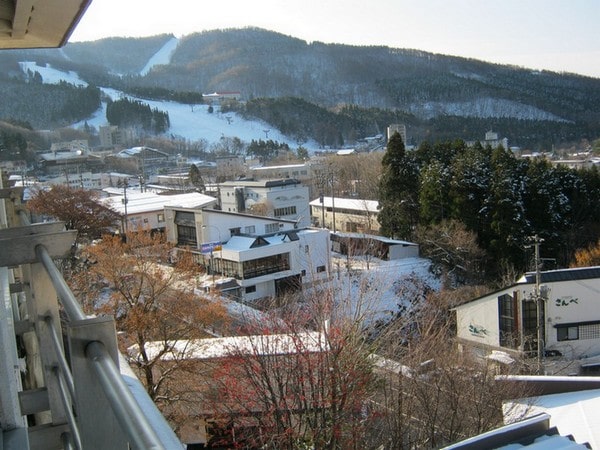 Guest room. View from the guest room. Winter Spa town
Meal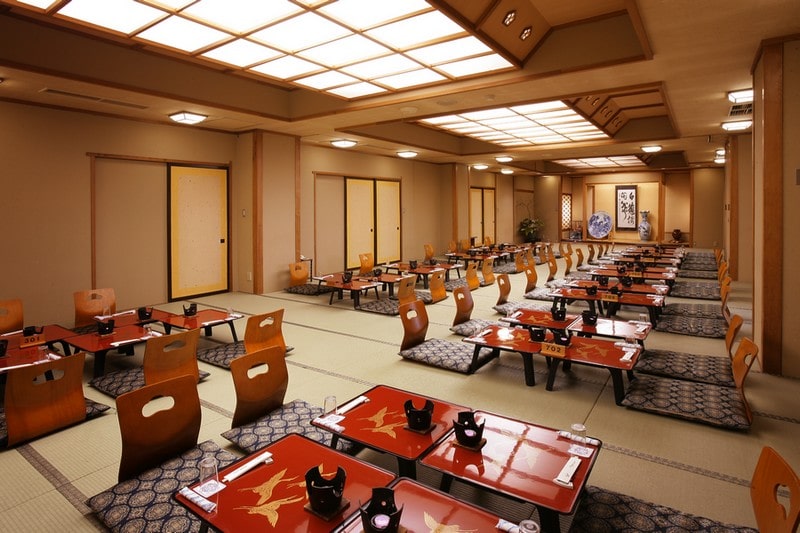 Tsuruya's Japanese meals are carefully made with the freshest seasonal ingredients. Come and relax at our inn and enjoy our local Yamagata cuisine.
Besides Japanese meals, we also have sukiyaki hot pots that use local Zao brand beef, shabu shabu, as well as steaks.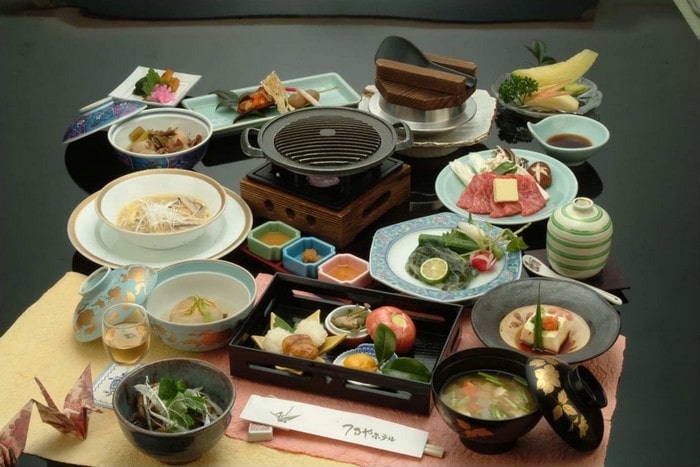 Yamagata local cuisine Japanese meal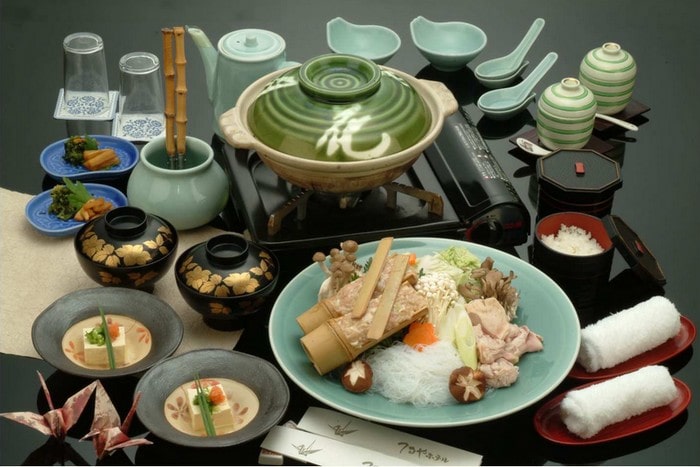 Chicken meatball hot pot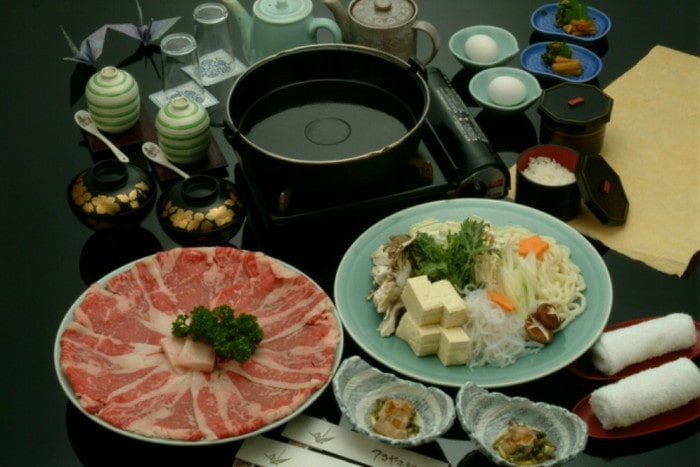 Zao beef sukiyaki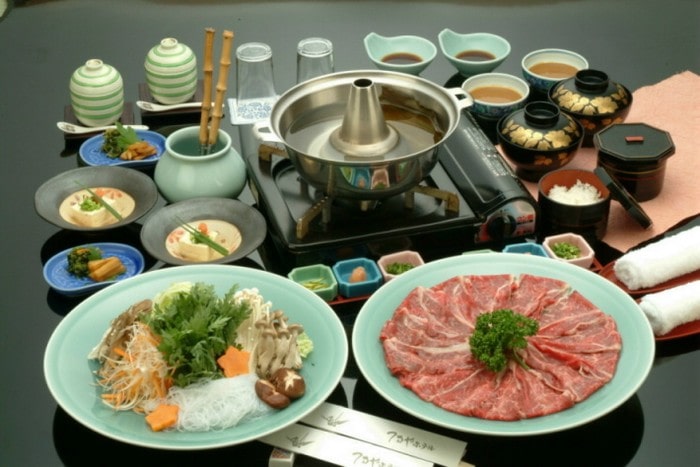 Zao beef shabu-shabu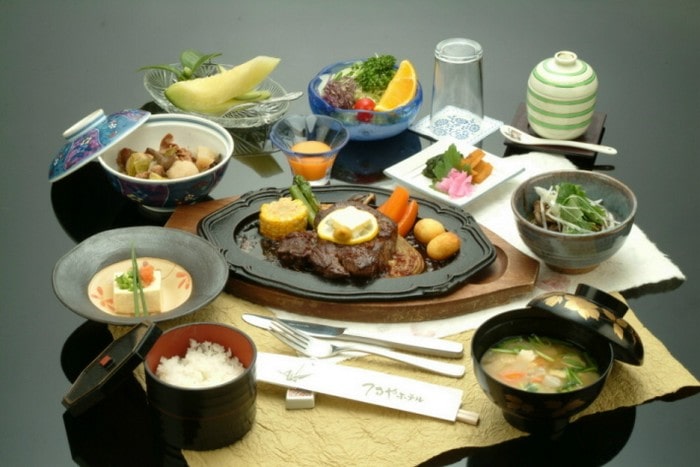 Zao beef steak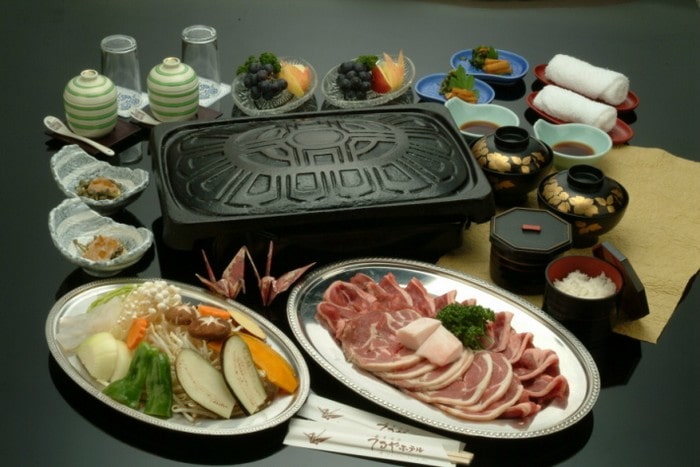 Zao specialty lamb meat genghis khan
(available from December to March)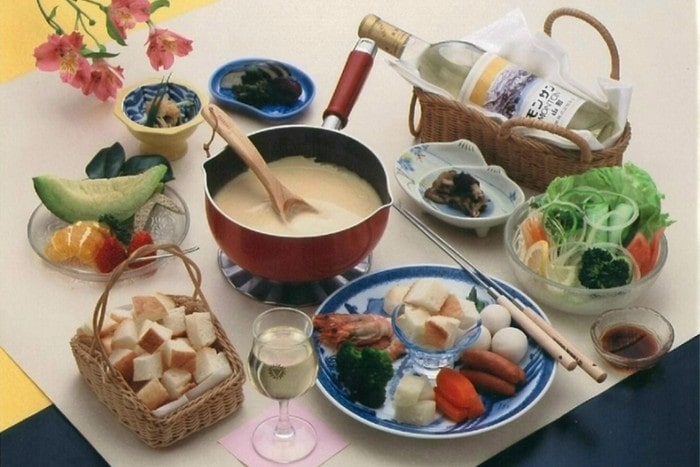 Cheese fondue
(available from December to March)
Access
●By JR (Shinkansen / train)
◆Tokyo Station - (about 2 hrs 30 minutes via Yamagata Shinkansen Line) - Yamgata Station - (about 40 minutes by bus) - Zao Onsen
◆Sendai Station - (about 1 hr via Senyama Line) - Yamagata Station - (about 40 minutes by bus) - Zao Onsen

*Our inn is located right across the Zao Onsen bus terminal.
●By car (The nearest expressway exit is Yamagata Expressway Yamagata Zao I.C.)
◆Tokyo ・ Urawa I.C. - (approximately 3 hours 30 minutes via Tohoku Expressway) - Murata JCT - (approximately 30 minutes via Yamagata Expressway) - Yamagata Zao I.C. - (approximately 25 minutes via Nishiozo Takahara Toll road) - Zao Onsen
◆Tokyo ・ Urawa I.C. - (about 3 hours 20 minutes via Tohoku Expressway) - Shiroishi Izu I.C. - (about 2 hours via Zao Echo Line) - Zao Onsen